wood chipper
The drum wood chipping machine is special equipment for producing perfect chips, and it is used in paper plants, straw crusher, particle board plants, fiber-broad plants, chip production and export bases. By using drum wood chipper machine, logs and small wood are cut into high quality chips with even length and uniform chip thickness. Our wood chipper is also suitable for the chipping of branches and twigs, straw and planks.
This wood chipper machine equipped with electricity control cabinet, motor and 1 set of extra Knives with 4-6 pieces.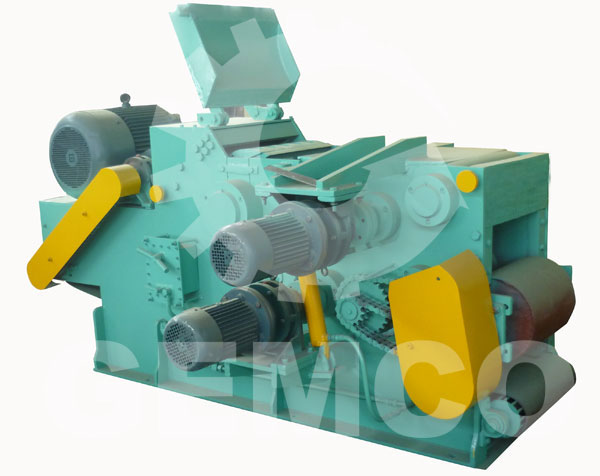 Technical Parameters:
| | |
| --- | --- |
| Model | BX215 |
| Rotor Diameter(mm) | 500 |
| Number of rotor knives(pieces) | 2 |
| Feed opening(mm) | 180x400 |
| Rotor Speed(Rpm) | 592 |
| Feed Speed(m/min) | 38 |
| Stock processed max diameter(mm) | 160 |
| Chip length(mm) | 35 |
| Capacity(m3/h) | 4-5 |
| Main drive motor power(KW) | 45 |
| Feed roller motor power(KW) | 2.2x2 |
| Weight(t) | 2.9 |
| Overall dimensions(LxWxH)(mm) | 1540x1240x1020 |
The size of raw material needs to be less 200mm on diameter, and less 1000mm on length. And the outlet size of wood chip is less 3 mm on thickness, and less 15-25 on length. The size of the finished wood chip can be adjustable by changing the distance of the knives.
1-2cm chips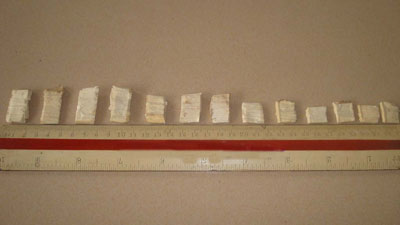 2.5-2.8cm chips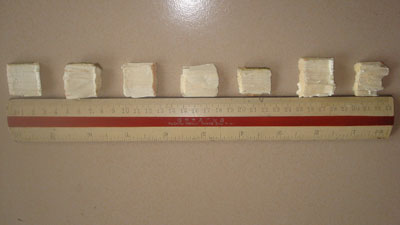 3-4cm chips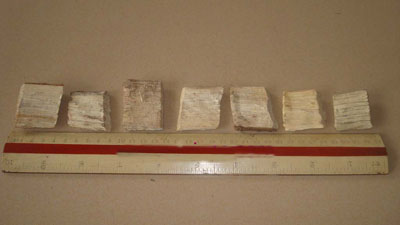 The chip lengths are different according to the requirements of paper plants, particular broad and fiber-board industries. In order to meet this need, our company has improved different kinds of drum wood chippers recently, and the new type wood chippers have more advantages. All the features of wood chippers show that it is ideal equipment for chip production which can be exported all over the world.