cooler for pellets
Customers visit the cooler and sifter in complete set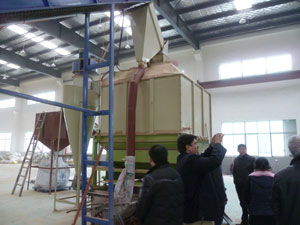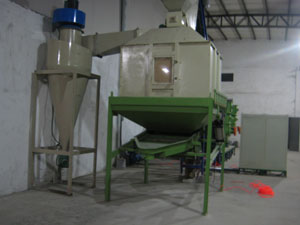 SKLN series counterflow cooler is usually separated to the following part for transport.
1) unload system,including the base,unload bin and flow-down system.
2) midbin(four parts,one with door)
3) top shell,involving diverting device installed together.
4) dust collector
5) packing box ,including assemble accessories,three capacitance material levels,operation instruction,bolts and nuts,etc.
Remarks:the support feets on the base is disassembling for the convenience of transport on the larger cooler.
put the unload mechanism on the installing position,the foundation bolts being preburied.
regulate the unload mechanism to a suitable level position with gradienter.Infill the interspace below the supporting feet.Because the unloader may be twisted if the supported weight is not equal.And the mechanism will be worn and teared in a period of time.
install the midbin on top of the unload mechanism.
install the top shell on top of the midbin.
install the dust collector.
install the material level.
The installation of electric parts is instructed on the electric control schematic diagram.